This library, including its Curriculum Materials Center (CMC), has long served students in the Department of Education who are working in local schools as part of student teaching and other clinical experiences.
The Education Library's primary collection, Joseph O. Milner Children's Literature Collection–named after Dr. Joseph Milner, Professor Emeritus of English Education at Wake Forest University and Chair of the Department of Education for 28 years–is ever-growing and contains more than 4000 titles, including young adult literature, picture books, non-fiction, and biography. The collection itself is searchable in the ZSR Library Catalog.
The Education Library Committee consists of the following Wake Forest faculty and staff:
---
Ms. Alicia Lemar serves as the Education Library and Outreach Coordinator and manages these collections. Mr. Kyle Denlinger is the Department of Education's liaison to ZSR Library, where he works as the eLearning Librarian.
---
Where to Find Us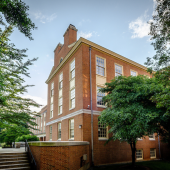 The Education Library/Curriculum Materials Center (CMC) is situated in the basement of Tribble Hall in room A2. Tribble Hall is building #13 on this campus map.
For more information about the Education Library, please contact Ms. Alicia Lemar.
ZSR Library
Without the ZSR Library, this collection would not be possible. For more information about the ZSR Library, visit the library website.